6:50:10 – 50k (31 miles)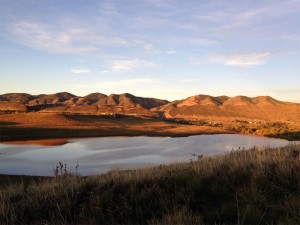 Running is just solving problems as they arise. I am sure the Race Director of The Bear Chase Trail Race has had more than enough problems to solve for decades to come. Just a little over a week of the Colorado 100 year flood, the race course needed to be change because, well, the starting line was 40 feet under water. They solved that problem. Phew! What's left that could go wrong? Day before the race we received more rain. Just enough to make the trails muddy to the point that people doing 3-6 laps on it would destroy the trails. It would also create an ultramarathon mudfest. That resulted in the Park Rangers saying no racing on Saturday and all races to be moved to Sunday. Result for race event team: start calling everyone. They did a phenomenal job letting all participants know by calling, emailing, Facebook, & Twitter announcements.
That led to my first round of logistical challenges to solve. Needed to find a babysitter for 4 kids and make sure kids all their activities, projects, and lunches ready for the start of the school week. I know from past ultras that I'm pretty useless after the finish line. For about 24 hours.
It wasn't until dinner time Saturday that I had solved my list to lock in a Sunday running all day event. Now was just time to hydrate and sleep.
Race Morning – 3:45am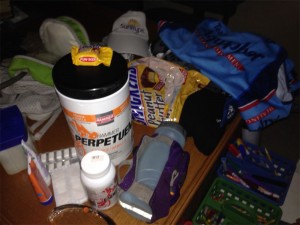 As usual, hard to sleep solid through the night before. This is a combination of excitement and fear of missing the alarm clock. It has happened before, not on race day, that I have turned off my alarm and gone back to sleep for a few hours.
Alarm went off, made my everything bagel with peanut butter and a side of strawberries. I had everything laid out the night before ready to go. All cylinders weren't firing very well, but seemed to have the basics covered.
Getting to the Starting Line
This would become the day of signs. Most of them I didn't see until looking back, typical, but interesting that some days you need those signs more than others.
The race called for parking at Bandimere Speedway and taking school buses over to the starting line. The park wasn't even open yet and couldn't support that number of cars. No problem, only a 7 minute bus ride.
As I sat in my car, I looked at my gloves and contemplated whether I needed them. I thought it might be a sign that I was staring at them so long, so took them. Yes, needed them immediately. I boarded the bus, took the 7 minute ride, and exited the bus into darkness. 5:30am and no streetlights make for a dark scene.
Using a port-a-potty in the pitch black sucks. Then realized I was holding my iPhone in my hand. Idiot. The new iOS 7 makes it easy to get to the flashlight in a swipe, so I was good to go. At the same time, I didn't want to kill the battery.
I grabbed my bib and found some light by the starting line. As I sat down on the curb pinning on my number I felt stiff. Not sure why or what caused it, but just felt "off." Oh well, start running and it will change.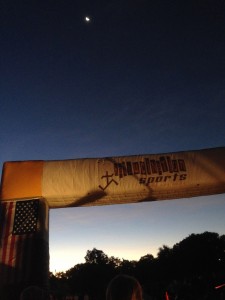 About 10 minutes before the start I found Mitch. He's a fellow Colfax Ambassador teammate and always a great motivator. We stood in front of the starting line chatting about family, the park, and our new team for the 2014 Colfax Marathon. Very little to do about today's actual race. Which I liked.
Here's a little confession … I registered for the 100k. Knowing that I have run about 8 miles/week for the past 3 weeks, I realized that 100k would be a bit of stretch. Or beyond my current physical ability.
They lined up the 100k runners first. There couldn't have been more than 50 of us. The announcer tried to get us fired up whooping and hollering, but I think we were all saving our energy for the next 12 hours.
The National Anthem was sung by a lady from the military. Perfect in every sense.
Countdown sent us on our way! Out of the parking lot and onto the concrete path. For the first 2 miles I was able to see the lead pack. That either meant I was going to fast or that they were being conservative. Probably a little of both.
Mile 2 – Water Crossing
I knew I was coming up on the water crossing when there were runners on the side taking off their shoes. No thanks. My running shoes, as are most, are made to dry out pretty quickly. Rather than spending minutes taking off my shoes, getting my feet wet, then drying off my feet, putting socks and shoes back on, I just plowed through. After all, the plan was to be doing this 6 times today.
The water was cold. At some points almost to my knees. I liked it!
Back out on the cement path!
Mile 4 – Hill
Not much looks like a mountain after a few ultramarathons in Leadville. That doesn't mean the incline hits you a bit. I decided that as I still felt good that I would jog up most of this hill. Probably only about half a mile of incline. It actually felt really good to climb up and over that hill.
The descent on the backside was fun! It reminded me of so many trails that I had run on before. This time though, my knee decided it wasn't in the mood. Felt like my quads disconnected and were resting on the top of my right knee. Not a pleasant feeling, but still able to move.
Aid Station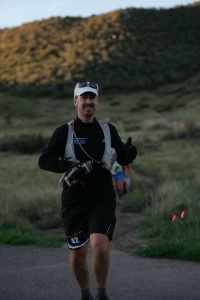 On the way down the hill my toe caught a rock. I went from shuffling casually to sprinting forward to catch myself. That was a wake-up call. Shot me forward and put a smile on my face as seen on the photo taken right after.
I have to say, these were some of the best aid stations and volunteers of any race I have been in. It was clear these volunteers didn't just stumble upon running. They have either done this before or run themselves. The conversations are great with them, jokes, but short enough to know that we need to get going again.
I grabbed a pickle, chips, and Mountain Dew then was off.
Nice single track dirt trail leading out to golf course entrance. Some more concrete (ouch) and then loop back up onto dirt.
Mile 7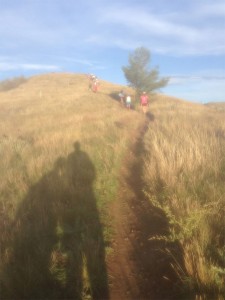 Another hill to climb in a short spurt. This one I felt a little more and no chance of jogging up it.
It seemed that with every downhill my knee made itself more known. I don't like that.
The next 3 miles were long exposed headwind filled trotting. Along the side of the road, through an aid station, and into the start/finish area.
Mile 10
Received a warm welcome from Amy and Nick cheering people on! Stopped over at the food table for a couple bites and then back out onto the cement.
Around mile 14 on the same hill descent, the knee started to get worse. I was noticing that I was starting to change my form and the left foot was feeling it.
I lost about 20 minutes on that lap.
Mile 20
I came into the start/finish line feeling just okay.
Mitch came over and asked how I was doing.
I could use a new knee.
Mitch looked at my knee and said let's go eat because you have to eat.
* Post-race comment from Mitch: "I noticed your knee was swollen and went into distraction mode."
I walked over to the table and stared at the food. It must have been longer than normal because volunteer said:
You look like you could use a pickle.
Well, I put myself in this pickle so I guess I should eat a pickle.
I find myself amusing.
Next table down was the water station. Volunteer asks:
How's your pack? Need it filled?
Nah I'll get it after the next lap.
Foreshadowing sucks.
Mitch was taking off for the day so I shook his hand and said thanks for coming out to support. Back out to the concrete for a half mile before onto dirt.
Mile 21 – Ice Bath
I really enjoyed the river crossing. The water was ice cold, so I stopped and submerged my leg for a minute. That felt nice. Back to the concrete grind.
Mile 22
I came up on a brother and sister running together. They were talking about how rude bikers on the path were being. No surprise.
Brother: Have you done other ultras?
Me: 4 or 5 plus attempting Leadville 100 last month.
Brother: How far did you get?
Me: At Twin Lakes doc sent me to ER for peeing blood.
Sister: That was you! We were volunteering at that aid station and heard a guy was peeing blood and asking if he could just drink it and could keep going.
I am a legend apparently.
We jogged a little downhill to get to the base of the first hill. Then I realized I was out of water. Picture of volunteer offering to fill my water 3 miles back flashes in my head. Damn.
Mile 23
Met up with Dustin which was some welcomed conversation. We chatted about runners we knew, taking it easy on the uphills, and enjoying the race. Up to the top of the first hill of the lap was some water. That was welcomed before starting the descent.
Heading down the hill, Dustin noticed I wasn't running normal.
It's just my knee. Hurts like hell.
You want to stop?
Nah, as long as I can still put pressure on it I'm good.
Fast forward 20 seconds … down goes right leg. There goes the 100k option.
Now it was a matter of surviving this lap to get the 50k option. Plan B isn't too bad.
Mile 24 – Aid Station
I handed off my empty water pack and asked for half water and half electrolytes. Then I was asked if I wanted to get something to eat.
Mitch told me to eat.
Without even a blink of an eye the volunteer escorted me to the buffet of food to choose from. Not a "who the hell is Mitch" or anything.
Mile 26
I am not this damn old!!! I yelled.
That is all.
Mile 28
Up ahead I saw a bike heading down the dirt path. That seemed strange that someone would want to bike out here in the middle of nowhere. The biker had a little girl in a seat on the handle bars. How cute! Then I hear:
Alllllleeeexxxxxx!!!
Hey Terry! Awesome to see you!
How are you doing?
My knee is pretty much done, but otherwise just fine.
Want me to take some photos?
Absolutely!
Terry is a great photographer: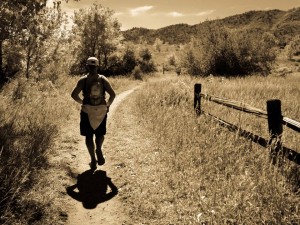 Was nice having someone to chat with for a bit. He biked up ahead and took some more photos which I appreciated. I do most of my races solo, so was nice to get evidence I was there.
I met Terry and his wife at my first ultramarathon … Silver Rush 50 in Leadville. My wife and I happened to sit next to them in the front row of the race meeting. Such great people and tough when it comes to running 100 milers.
About half a mile out I sent a text to my pacer Jim waiting for me:
I don't know how much more damage to my knee I should do.
Coming into the finish line I was hobbling. Wasn't putting much pressure on the right leg anymore. I saw Jim waiting for me and immediately went into whiny apologizing mode. This was not how the day was supposed to end.
For some reason, as the years go on, I start using more logic in the race. Two years ago I probably would have run through the swollen knee until I had to be carried off the course. Now I want to be able to walk again, let alone run again. Maybe it's maturity. I also think running a race that has loops provides an interesting challenge to it. You have options to stop, there's not the same sense of adventure. Running 25 miles out into the mountains and then having to get back is a different situation. It's more you and nature. I like that.
The course had quite a bit of concrete, but that should not have played a factor in my knee swelling up like it did. Much of my training the past 2 months has been concrete. At the same time, that training has not really included downhill running and that's where I felt the pain changers in this race.
Nonetheless, I went 31 miles on foot for another 50k finish … and got a PBR to celebrate.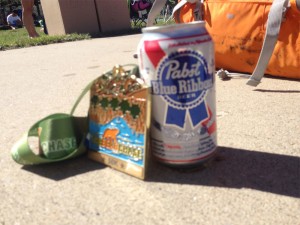 Overall, I am bothered that I only ran 31 miles when the goal was 62. Today was supposed to be the day I set a new distance PR. Didn't care about time except for making the one cutoff at mile 50. Just wanted to be out there and go. I did learn a few new things and looking forward to putting them to the test. It seems that my knee will require almost a week off from running. Having that extra energy and knowing what I am capable of, but not yet achieving, makes it hard to sleep at night.