2 hours 32 minutes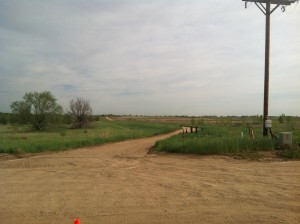 I always remember running marathons and having the 4th leg of a relay team fly be me at mile 23. It catches by surprise as my goal 4 hours into running is to focus on the finish line. Then out of nowhere a blur goes by that catches me by surprise. I see the baton in their hand after they're 100 feet past me so I realize they're on the relay with fresh legs. Finally, I got to be that blur.
My 9 year old son participates in Run Club at his elementary school. They meet twice a week and run around the field for 30 minutes. It's a good lesson in committing to a goal along with learning about pacing. At the beginning of the year, pacing was a foreign concept. After they did their first 5k in the fall, a few started to catch on to the concept.
Our half marathon relay team was made up of 3 kids, so the plan was my wife to pace the first half and I would take the 2nd half. 3rd leg was with my son and 4th leg was on me.
After taking a team photo at the starting line, my son and I headed over to the shuttle destined for the start of the 3rd leg. This was the first year of the event and for the most part really well organized. The shuttle to the relay transition was a pickup truck. Growing up in a small town, I had my share of rides in the back of a truck. For my son, this was a first. About 14 of us climbed in the back and set out for a ride through town and along a dirt road. It was great!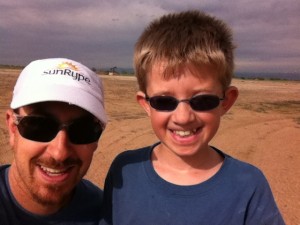 We waited at the relay station chatting with other runners. Some had never been in a race while others were there to support friends. The weather was perfect with the clouds hiding the sun. We waited about 30 minutes before receiving the first text my wife was a mile away. The kids were holding strong and making good time.
My son saw them come over the hill in our direction. He went out to take the handoff and we were on our way up a dirt road. I'm sure he was sick of hearing me say the word "pace", but he was doing it. The benefit of starting off up an incline is that it makes you run a little slower.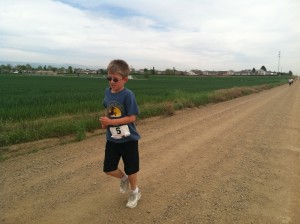 At the top of the hill, about 1 mile in, the ground became pavement. The sun was slowly starting to peak through, but for the most part we were coasting along at an 11 min/mile pace. Up ahead was a water station. Me being one that rarely is serious, took the opportunity to have some fun. I looked up and said, "looks like rain." Then I proceeded to throw my cup of water in the air.
It was funny, but I forgot to wait until his cup was empty. Then it rained on me.
About this time, as expected, I could see he was getting bored. Time to teach about reeling people in. This is when you get your eye on someone ahead of you and work on getting closer until you pass them. It's a strategy that worked well for me a couple weeks ago at the end of race. Rather than the reelin' analogy, I used a Spiderman reference. I told him to shoot out his spidey web and catch someone in front of him. He passed 6 people in a mile with this! It was a blast to run with him!
I knew once I hit that 4th leg I was going to put the accelerator to the floor. About 100 yards before the relay exchange, I ran ahead so he could have the experience of handing off. He ran hard all the way and snapped the team bracelet onto my wrist.
The course went onto dirt to follow a mile around the lake. I was running. For the first time, I was that guy passing people with ease towards the end of a race. At the 4th person in my spidey web, I slingshotted past her and heard her say outloud: thanks for that. She was struggling and here was this guy cranking past her. I get it. I still enjoyed it.
Out of the lake area and across the street, it was time for the 2 mile straight stretch up the road. Long straight stretches can be tough as sometimes it doesn't feel like any progress is being made. I just continued using my spidey web to increase speed.
There was a spot a mile from the finish line where relay teams could meet up. Everyone was there waiting and we started the trek up the hill. By this time, the clouds had parted and the sun was out.
It was hot.
The mile run in was fun to do together. The kids struggled a little to stay together. After all, they had been resting for about an hour, so were a bit anxious to move. Crossing the finish line, the kids were all smiles to be receiving a finisher's medal. They were pretty nice looking medals!
Plenty of bagels, chicken sandwiches, water, and bananas were available. Evidence that my son is like me, he went for the donuts: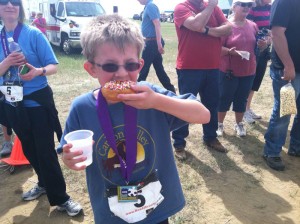 Relays are pretty fun!