2013 Leadville 100 Mile Trail Run
20 August, 2013
14 Comments
---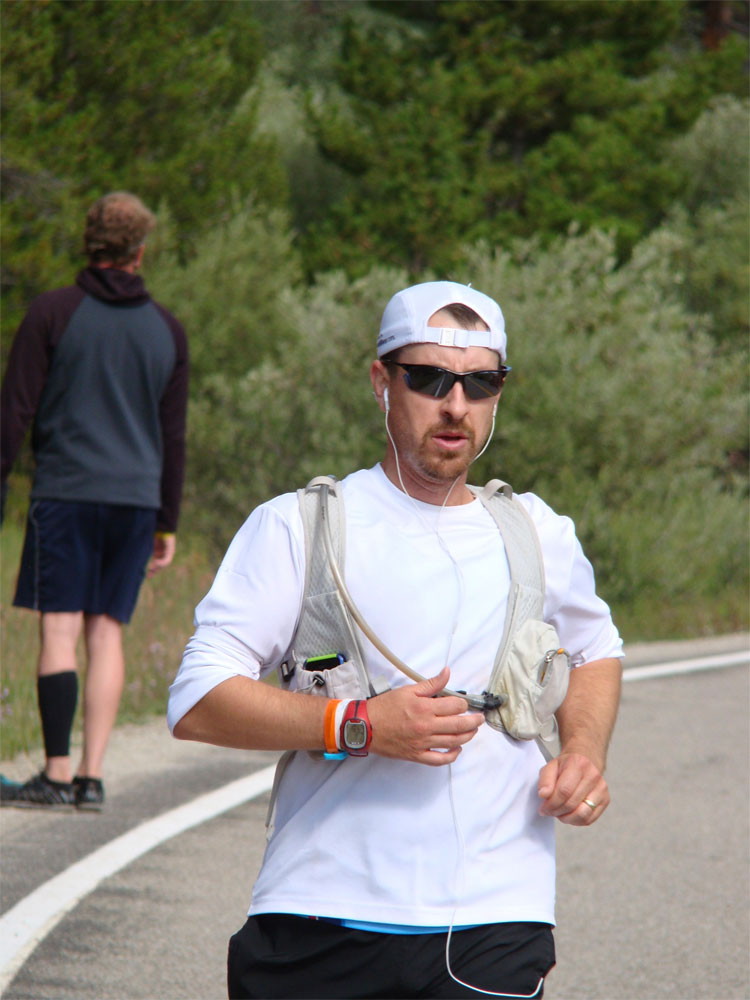 ---
38 miles – 9 hours – 5,500ft elevation gain – DNF
Hindsight is 20/20. Whether it be talking about the weekend's football game, choices made when choosing a career path, or eating sushi from the gas station, it is easy to see where things went wrong. In the midst of the game though, you have to make decisions based on the information and resources at hand. Sitting here the day after another DNF, the mistakes are blatantly obvious.
In the world of running, when you don't make it to the finish line you receive a DNF:
Did Not Finish
For many occasions, this acronym also means:
Did Nothing Fatal
This race, my DNF could very well have turned fatal in a matter of minutes. But I jump ahead.
Day Before the Race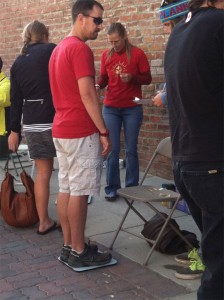 I woke up around 6a in Copper and went out for a 30 minute jog. I misread my weather app thinking it said 52 degrees. About 4 minutes into the run I realized it was closer to 39 degrees. I had just a t-shirt and shorts on. Oh well, good training for cold weather. It certainly made a hot shower feel even better!
After a little breakfast, we headed up to Leadville to check-in. Packet pickup was fun … running into friends and swapping stories. I went through the line, was weighed, and ready to go. The community of ultrarunning is amazing! You feel it as you around groups of people almost as if you are absorbing some of the energy. No egos, no arrogance, and no attitudes. A very welcoming community about working together to achieve goals.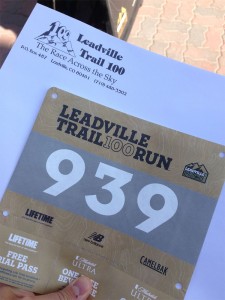 With race number and timing chip in hand, time to drive down the road to the pre-race meeting. In past years, the meeting was held at the 6th St Gym. That location had great "character" and you felt as though ghosts from the past were listening in. With the growing numbers of runners and people involved in the race, a bigger location was becoming more necessary.
At the race, the doctor told us how to not end up dead. Don't take Ibuprofen and drink when you feel thirsty. The race director introduced a few more well-known folks that would be on the course like Scott Jurek, Marshall Ulrich, and Nick Clark.
I recorded the speech from Cole about digging deep and not quitting. Those are words I took to heart and was ready to act upon. I would start moving forward and would not stop until I was told to stop. The only people I would listen to about stopping would be medical. If a medical person told me to stop, I would still try and talk my way out of it.
After the meeting, my wife, pacer Lisa, and I headed back to Copper. No plans for the afternoon except meet-up with another pacer and crew member at the condo. Then it was time for a pasta dinner while watching the ultra movie Unbreakable. That movie got our heads in the right frame of mind!
Then it was time for a few hours of sleep.
Alarm clock went off at 2am. I went through my routine of getting ready and came out to the kitchen. Jim had a cup of coffee ready for me! Then again, he was in charge of fluids for the day.
We moved our boxes of gear into the crew vehicle and setoff up the mountain.
The start of the race is always exciting. People are still chatting, joking, and feeling relatively good. At the end of the pavement where we enter the woods, people were off to the side for the morning bathroom break. Seems to be a tradition, but I continued on, knowing I would eventually stop for the same.

First 2 miles I was doing about 9:30 min/mile pace. That's pretty ambitious, but I continued on. Still drinking every 3-4 minutes from my pack. We hit the fun inclines where it's just a stream of headlamps climbing up.
Around mile 4 I decided to give a gel a try. That didn't go well. It hit my mouth and came right back out. I have had this happen, but usually 3 or 4 hours into a run. Weird.
I continued on running around the lake. It was strange that I didn't feel like I had the energy I normally had on the run. About an hour after I start running, I usually get into a grove. The grove was not coming.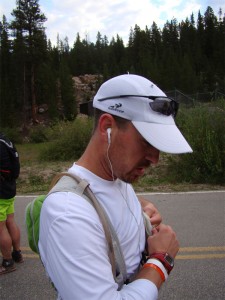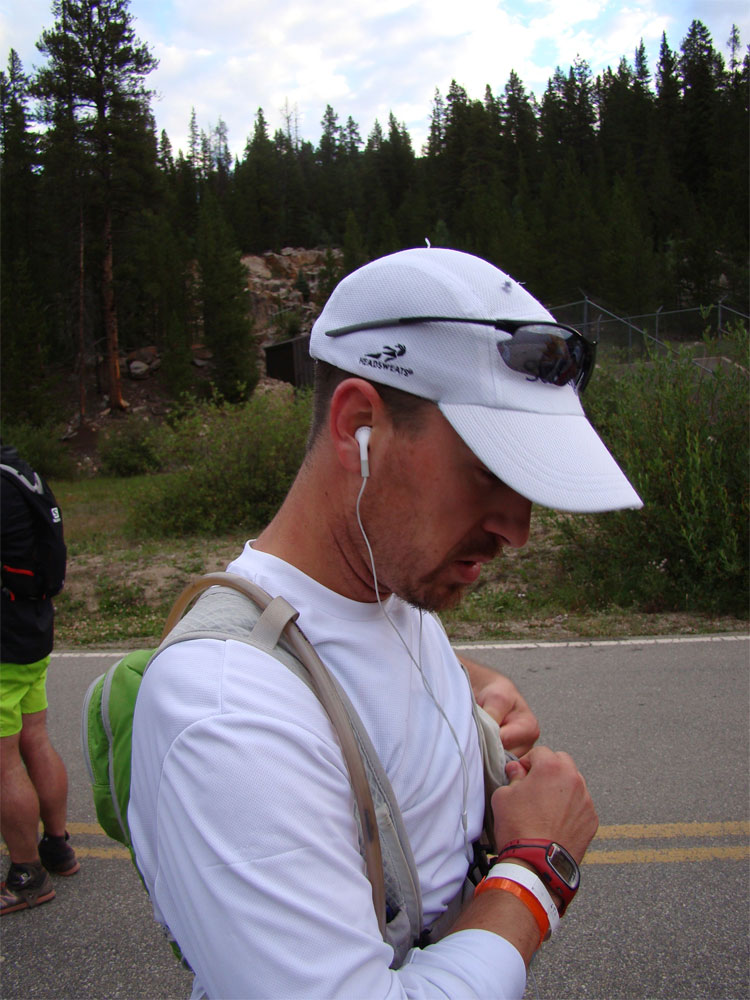 Coming into Mayqueen Aid Station I felt the need to check-in with medical. Couldn't put my exact finger on it, but knew something was not going right. I went up and grabbed some Coke then asked where the medical tent was. Volunteer came out and guided me over.
I spoke with the nurse about how I was feeling and that urine was already looking dark. She had me provide a sample and we showed it to the race doctor. He said it looks dark, so drink more fluids. Okay, I thought I was drinking enough. I had 70oz of Perpetuem and water I was drinking.
I left the aid station area and met up with my wife and crew. Jim was responsible for fluids, so I handed him my pack saying I had drank every 3-4 minutes so far.
I turned to my wife and recapped what I spoke with the doctor about and chose a hat for the next leg. Then I heard Jim …
Jim: Ummm Alex? I'm going to call bullshit or something else is really wrong.
He showed me the pack and it appears I barely drank 15oz of fluid in almost 3 hours.
Wow. That is not good.
It certainly explains why the urine color. So drink more of this. Got it.
Jim: We'll make a deal with you. If this pack is empty at the next aid station, we will have donuts waiting for you.
Me: Deal!
They get me.
Mayqueen to Outward Bound
Walking up the road and back onto the trail, I felt good. A little concerned about the lack of fluid intake, but as my wife pointed out, we can fix this. That makes sense. We are not at the point of no return.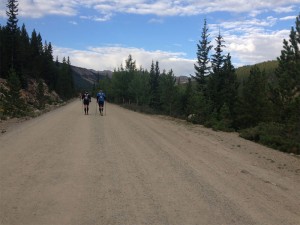 Next up was climbing Sugarloaf. Up and then more up and up again. Still didn't feel like I was exerting myself all that much. Just some strong hiking and passing a few people.
Getting up top to the dirt road, I still decided to hike it. Not at all a steep incline, but an incline nonetheless. Then, I puked. Twice. The drink concoction in my pack came up all over the road.
That was strange.
I have dry heaved before, but nothing like this in a race. (Hindsight, this is called dehydration).
A guy ahead of me yells bet you feel better!
Yes I did.
Him and I hiked the rest of the way to the top and I passed him on some downhills. I caught up with another guy that I chatted with for another mile or so. I did feel better, but still felt off. I chose to focus on the positive, taking another step, reciting a Bible verse about soaring up on eagles wings, and moving it forward.
I had the urge to pee so I stopped to give it a go. The color was getting darker and it burned a bit. Red flag.
Nearing the last little climb to Powerline, an old man with a pickup truck was on the side of the trail. Straight water sounded like a great idea. He had bottles of water and Coke. I grabbed a bottle of water and told him he probably just saved my life. He's been coming out on the course for about 20 years doing this as the race goes right along his property.
Heading down Powerline I was now convinced something was going wrong with me. I wasn't doing my normal ninja downhill running that I really enjoy. I caught up with a guy going for Leadman that was struggling. In normal fashion I ignored my struggle to help him get through his. Then I started praying for more water. And around the corner was the old man again.
Me: Wow you are proof that prayer does work!
Old Man: Happy to be here! Take whatever you need! I can give you a ride down to the aid station if needed.
Me (while moving forward): Oh no, I am not stopping!
I ran down and onto the pavement. From last year, I knew that I had at least a mile to go on pavement before the aid station, so I ran anything that didn't resemble an incline.
Outward Bound Aid Station – Mile 24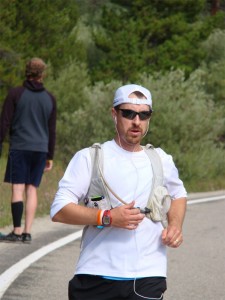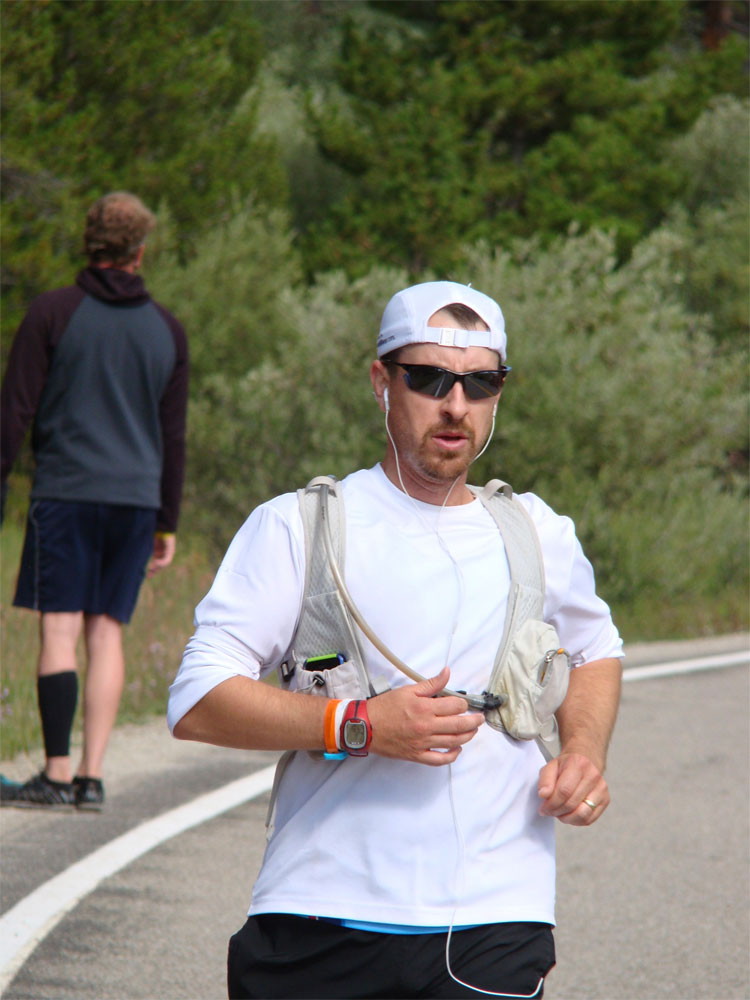 Approaching the aid station, I didn't even recognize Jim on the side of the road taking photos of me. I handed him my pack and he gives it a little shake.
Jim: This doesn't seem very empty.
Me: I have a bigger issue dealing with. Burning when peeing.
Jim: Fair enough.
That should be a signal to me to go for electrolytes. One that I did not get.
Coming into the aid station, I saw Mitch. So excited to see him! He would be pacing my last leg into the finish line and is always full of great spirit. He led me over to the table and had me grab watermelon. That felt great!
Then he guided me over to my crew who started slathering me with sunscreen. It's also like getting a little massage while sipping on a Coke.
In fairness to my crew, they probably had no idea how much of a downhill I was rolling down. Truthfully to myself, I didn't either. I was still laughing, telling jokes, and even dancing for all:
I left the aid station happier then I entered, knowing I wouldn't see them for another 16 miles.
Heading out onto the 3.5 mile road pavement section, I was determined to run way more of this than I did last year. I was able to get a solid jog for more than half of that pavement. It felt good to pass people, even though I know it means nothing with so many miles to go.
Once onto the dirt trail, it was about a mile up to Halfmoon. This is an unofficial crew station where people can drive in to check on their runners as they pass by. I chatted with a couple people and asked about cutoff times. They informed me Halfpipe had a cutoff of 11:20. Woah. Time to get moving.
I informed a few other runners I was passing to which one guy replied:
Well that changes the intensity of my running!
I made it into Halfpipe with 8 minutes to spare.
Halfpipe Aid Station – Mile 30
Nothing too interesting here, except that they didn't have soup. That was a bummer. Not to mention I really needed that salt/sodium.
I caught a glimpse of the lady that cuts off timing chips if you're late, so I was out of there.
For some strange reason, I thought from here to the Mt. Elbert Water Aid Station was mostly downhill for 4 miles. Wrong. I would say it was mostly uphill.
Things were not feeling right. To pass the time, I decided to send a text message to my wife:
Not looking good. Swollen knee, food won't go down, blisters, pee getting darker, & 5 miles to go. Barely made Halfpipe cutoff time.
It was my warning flare that I was going down. Body was shutting down and not responding, yet still pulling off smiles and chats with people going by.
I still had not stopped moving forward. Every step was another towards the goal.
Wife text message back:
K. Andrew's coming to twin lakes. Love you SO much!!! Derek's getting you a knee brace.
Really, how incredibly awesome is that for a partner and crew!
I'll just get to them, sit down, drink a bottle of Gatorade, and see if things improve. No matter what, leave Twin Lakes before cutoff and head up Hope.
More and more climbing ahead … it seemed to never end. Why don't I remember this from last year? I just wanted to fly down a hill into the next aid station before seeing everyone at Twin Lakes.
Mt. Elbert Water Station – Mile 38
I came into the aid station and immediately interrupted the volunteers asking if they had electrolytes. Sorry, just a water station I was responded with. Crap.
Volunteer (Kim): How are you feeling?
Me: Well, my knee hurts, I have a blister forming on the bottom of my foot, and I'm a bit dizzy.
Kim: I can give you a ride down to the aid station.
Me: Oh no. I can walk it in if I need to.
I filled up my handheld with water and headed down the trail.
About 100 yards down, I decided to stop for a pee break and then was going to race down the hill into Twin Lakes aid station.
I stepped off the trail and started to pee. Out came bright red.
Now, I am a fairly calm person. I have a way of internalizing situations and coming up with solutions. In this case, there was no internal discussion. There was a WTF and turning back to the aid station.
Alarms were going off in my head. How could I have made it to this point?
I arrived back at the aid station, walked up to Kim and said calmly:
I am peeing blood. I will take that ride to the aid station.
Then things started happening.
She went to get the car and she told me to have a seat on a log. No problem. I was trying to decide how to best word the text message to my wife on the situation. Here's what I sent:
Update: I'm done. I just peed blood. Getting a ride down.
Seemed simple and straight forward. Her response:
K. Love you! Stewart's down here ready to take care of you 🙂
I know Stewart from being a Colfax Marathon Ambassador. Great guy, smart medic, and always willing to help.
My text back: That actually does make me feel a lot better. Nothing really hurts & I'm cohesive. I don't panic easily as you know but holy crap when I saw that!
Twin Lakes Aid Station – Mile 40
We drove through the police barricade and right up to the ambulance. My wife was waiting for me with Stewart. He brought me into the medical area and sat me down. He asked the normal questions, I asked about his baby daughter, and took my blood pressure and pulse. I recounted the situation of what just happened. Doctor came over and repeated story.
Me: So remember me from Mayqueen Aid Station? We had a little chat about dehydration.
Doctor: Yes I do. Well now looking in hindsight, probably should have held you there longer to drink more.
Andrew and Marcus arrived to check in on me. I believe I said something to the topic of at least I'm not in the ER like you. Jinxed myself there.
Everyone said how I still appeared to be in high spirits, smiling, and still telling jokes.
Stewart walked me out to a porta potty so I could provide a sample. In I went and did my thing. The color was a dark cabernet which was an improvement over bright red.
I came out of the porta potty and handed Stewart my cup.
Stewart: Holy shit!
Me: I don't think medical people are supposed to say that in front of their patient.
He said something, but he was walking away from me too fast to hear. He was heading to the doctor. By the time I had made back over to them, the doctor was on the radio with the ER saying I was coming in.
Now I was getting a little more serious.
Doctor looked right at me:
You need to go to the ER and get checked out. You could be on the point of kidney failure and we are not setup here to take care of you if that happens. I just called it in so have your team drive you to the ER. If you start having a hard time breathing, chest pains, or slurring words, call 911.
I don't believe there has ever been a time a man has looked at me that intently. I got the message. While I feel in good spirits at the moment, it could change drastically in 2 minutes.
Damn.
Reflecting back, my crew was incredibly calm and swift. I was in the car and Jim was carefully driving around runners to get me on my way quickly. He kept asking me questions which I kept answering. Took me a bit to realize he wanted to hear if I was slurring my words. I was focused on drinking that bottle of Gatorade. Images were flashing in my head of the past 8 hours and hints about where I went wrong.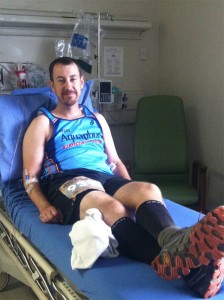 I kept the jokes running right into the ER. With the medic that did the initial barrage of questions … do you smoke, asthma, heavy drinker (apparently not enough), etc. He was funny and returned jokes.
Nurse came in and explained how to provide a sample, I did so, and was happy to see color changed to more of an iced tea hue.
Doctor: so you have rhabdomyolysis.
Crap, now I have a medical condition associated with me.
Doctor: that can be caused by trauma, dehydration, or extreme physical exertion. In your case, all 3.
I received an IV bag and exchanged more jokes with people. I started reading through messages from people and looked at the clock on the wall. That's when it started to sink in: I was done.
After a couple hours I was discharged from the ER. We went to High Mountain Pies to get a couple of pizzas. Once those were in hand, we headed back to Copper at the condo. I showered and slowly ate half a large pizza with a couple Guinnesses. By 8p, I was knocked out in bed for 9 hours.
Overall, I feel like I cheated myself out of a great opportunity. Muscle/body felt great the entire time which was a result of the training I had put in. It was like building a kick ass car, racing on the big day, and not bothering to check the oil or fill the gas tank.
I also feel that I let down my crew and pacers. Derek and Mitch didn't get to do any running that day and I feel bad for that. Not to say that I would have been running a great deal at those points, but they had been excited to run. My goal is to get back up there with them and run some of the segments on fresh legs.
Will I run the Leadville 100 Mile Trail Run again? Most likely yes. Those thoughts deserve a post all to their own.