2016 Bolder Boulder
---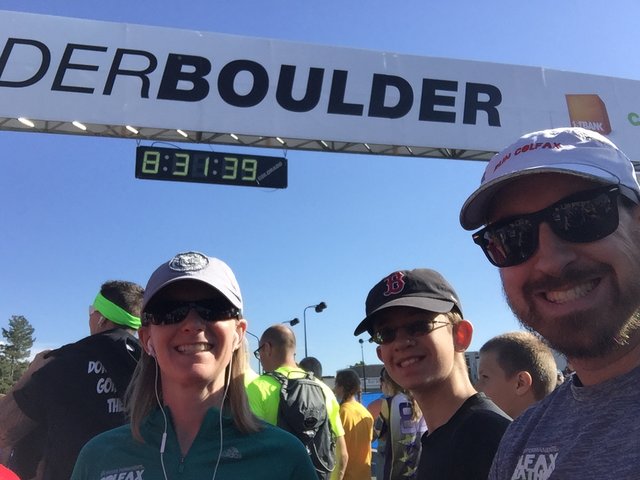 ---
It has been over 5 years since running the Bolder Boulder and wow did I miss it! This time, my wife and I invited our 13yo son to join us in the 10k run. The only goal was to have fun and keep moving forward!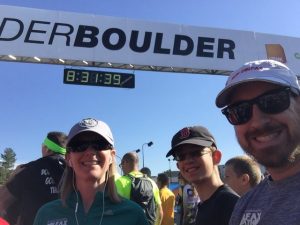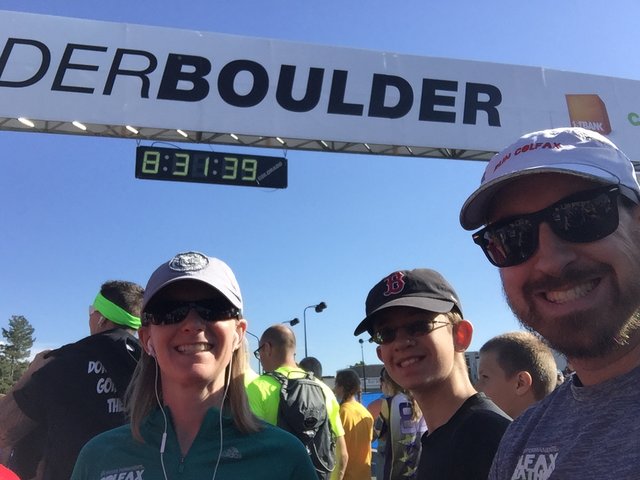 He asked all the usual questions about the course, aid stations, weather, and what we would see. All I can say is that there are over 50,000 people and we are running through a parade. Keep an eye outside of the road as that's where the fun is.
We took the RTD bus to the starting line … because again, who wants to battle traffic of 50,000+ people trying to get to the same exact place at the same time. I imagine it's what it would be like to drive to the Super Bowl. No thanks.
On the bus, I sat with a guy that is a professor of music at the University of Colorado. We had lots to talk about! Talked about history of music and parallels with what you hear on the radio to how he made his way to Colorado. You never know who you will meet on these adventures.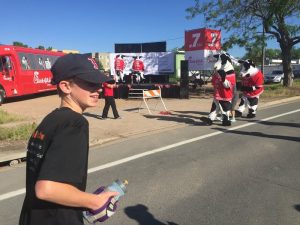 We arrived pretty early at the starting line so did the porta-potta lines (which had hilarious signs on the doors) and some warming up. Then we headed over to our corrals for the slow walk to the start. We ran into friends, took photos, and before we knew it was at the starting line!
In no time at all, our son realized this race would be a bit different than his middle school cross country running meets. After all, it started out with some dancing cows from Chick fila!
Tanya surged ahead and I stayed running with Ian. A couple miles in and he was still smiling!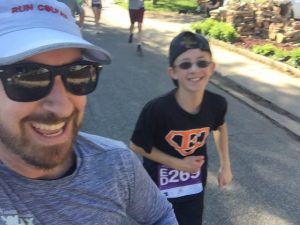 We passed the Blues Brothers, Elvis, and then the belly dancers. I don't think he seemed very interested in belly dancers.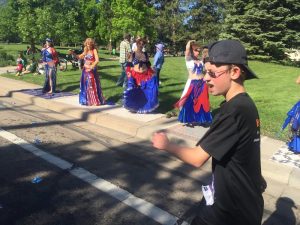 Then there was some complaining. My stomach doesn't feel right. I'm tired. My foot hurts.
I replied with what every supporting dad would say: Suck it up buttercup.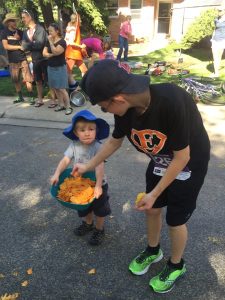 Fortunately, the city of Boulder comes out in the masses to support this race. That means spectators are handing out popsicles, bacon, cupcakes, full cans of beer, tater-tots, and the soon-to-be-famous Dorito Station. As you can see in the photo, I don't think the kid was too happy someone was actually partaking in his bowl of Doritos.
The extra calories seemed to be making a difference as there was less complaining. Back to watching the people on the sidewalks and parties on the front yards along the course. At times you had to watch closely as they had garden hoses and water guns 🙂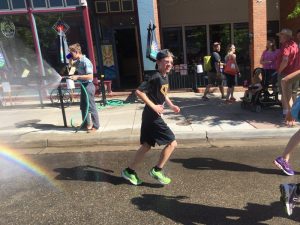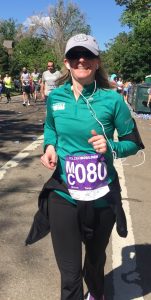 Tanya was looking strong the whole time. She kept stopping to see how far behind we were as she wanted to take off running. Normally that wouldn't be a big deal, but finding individuals in this race is no small task. Plus at the finish line, with everyone posting their accomplishment, high probability cell phone networks would be jammed.
We were on a nice easy pace, but it was definitely getting warm.
As we cruised on down the last hill and rounded the corner, my son got to have a cupcake. Suddenly he had plenty of energy to run the last mile! I may have had a cupcake too …
From there it's a pretty straight stretch down the road. I was looking forward to get to the last little hill that goes up to the stadium entrance. It feels like a pretty steep climb after the flatness of the previous mile. It's nice to get to that point not just because it was close to the finish, but that's where the bagpipers are.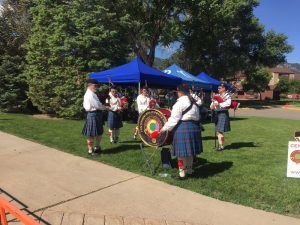 Running into the stadium is always very cool! You get to see yourself up on the big screen as you cruise around the track like a college athlete star. Once you cross that finish line, they really want you to keep moving.
"There's 50,000 people behind you. Please keep moving." Not quite accurate, but I get what they're saying.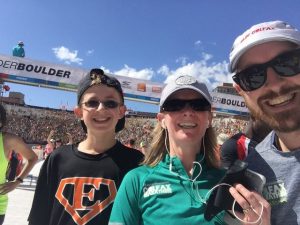 After crossing the finish line we headed into the Field House. There were a lot of goody bags! Plus they're very cool reusable lunch bags! After getting our goody bag, we headed over to the stadium seats to snack and watch other finishers.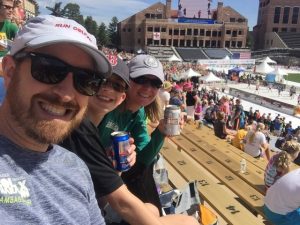 We didn't spend too much time walking around as it was hot and needed to get home to the girls. Wasn't hard at all to find the RTD bus we needed to catch back to our car in Longmont.
The RTD buses that drive people back to their cars in other towns have drivers that haven't driven the area before. They need so many drivers that they get help from all over the Front Range area. Over 50,000 people remember …
Our driver got a little confused. I helped her out with the stop I knew about, but after that she kept driving and missed a stop. No biggie I told my son. We'll get there eventually.
Guy sitting across from us had a different perspective.
Guy: (yells) What the hell? Why don't we drive all the way to Wyoming while we were at it?!?! Just keep on driving, don't notice there are people on the bus or anything.
Lady in front of him made a face like let me out of here before he really goes nuts.
Me: Dude you have a bad race or something?
Guy: No. Well.
Me: We'll get there a few minutes late but we'll get there.
Guy: Yeah, maybe I do need to adjust my attitude.
Me: I could tell you a story of my first 50 mile race in Leadville and how I fell on my face at mile 21?
Perspective. That's one of the stories I keep coming back to in the world of running.