The Colfax Marathon race weekend is one of those times I remember why I love running. It's the 2nd largest race in Colorado, but still has a small feel. I saw so many people I knew and many faces I recognized. Being part of this event feels more like a family reunion … in a good way 🙂
This event also reminds me how much I like event planning! 2015 is my 3rd year as a Colfax Marathon Ambassador. These are a group of people that are passionate about running and encouraging others to join in. We go to run clubs, races, and other events to talk about Colfax while giving out some cool schwag. The event is one big party weekend! At the finish line is the largest beer garden in Colorado with live music, charity partner tents, BBQ, beer, and even a vegetarian option.
Over the past 3 years, I have started to get more involved with the event. It started out with Mitch and I running the Marathon Relay area of the Expo. Another note, the Colfax Marathon Relay is one of the top 3 largest in the country! Almost all of the teams are running to support a charity/non-profit. How cool is that?!?! Mitch and I help teams get their questions answered and make them feel at ease on race day.
In other words, we act like goofballs.
Last year, we decided to make videos to help people know what to expect before heading to the Expo, where everyone comes to get their packets, bibs, shirts, car decals, mini-medallions, and on and on and on. This race has stuff!
Here's this year's video:

This past year, I dusted off that eBusiness degree and managed Google AdWords, Facebook Ads, Facebook Community, videos, and wrote the email newsletters. Oh yeah, and I got a new day job with more responsibility. Yes, I still am married with 4 kids.
The most rewarding was the Facebook Community piece. It was my goal to reply to any comment, question, or message within 30 minutes (between 7a-9p at least). It must have worked because people posted they were shocked how quickly they got a response! Some were surprised to just get a response. Been there with other races.
Anyway, back to 2015 race weekend.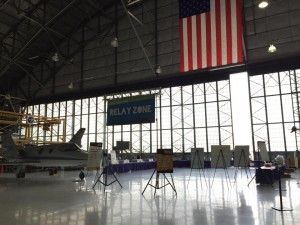 I flew back home Thursday night after being out of town for work all week. Friday morning Mitch and I met at 9am at the Expo, this year Wings Over the Rockies, to setup. Well, we really didn't have to do much! Richard and Carlos did an awesome job nailing it! Now all that was left to do was train about 20 volunteers and wait for runners to arrive.
And they did!
This year, we sold out of relay team spots so the race added another couple hundred more. There was the usual non-stop issues for Mitch and I to solve. Like the runner who comes in and says "so I was added to a team last night, I don't know the team name or number, and I'm not sure who else is actually on the team. So what do I do?"
Yup, about 23 hours of questions like this will make anyone's brain smushy.
We stayed at a hotel near the Expo to save each of us 2 hours of driving. He lives south and I live north.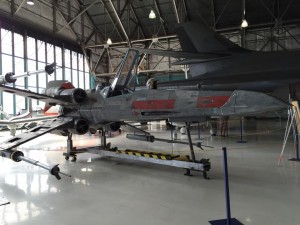 Tanya and the kids came on Saturday morning. My son went crazy over the Star Wars X-Wing Fighter they have there. We had lunch from Taziki's Mediterranean Grill out front sitting in the bright sun. They had a food truck along with Jim n' Nicks BBQ and a Maui Waui for coffee/smoothies. Great to get off the feet and have some food! After some food and walking through almost 90 vendors, it was time to get back to answering questions and solving issues.
Eventually, got home about 9p. That gave me almost 5 hours to sleep before Tanya and I would head to run her 2nd half marathon. The drive was pretty easy … not many other people out at 5am on Sunday. We parked, went to the large number of porta-toilets, and over to the starting line stage. I wanted to get a video of the national anthem being sung. Something magical about that song being sang at 6am as the sun is rising and not another sound in the air.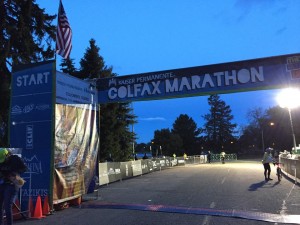 After all the good ceremonies and we cheered on the marathon runners, we headed to bag check with Mitch. Ran into several more people we knew along the way. One more pit stop and then over to the corral line. Ran into more people, laughed, and talked about how this was the one day in the past month it had not rained. Seriously, flooding around the state from the excess rain … except this Sunday morning!
Tanya and I took off nice and easy. Listening to the sounds of the zoo as we made our way around City Park. Such an incredible view! At mile 2, we headed into the zoo for the 1 mile trek. Past the zebras, cheetah (he wins for speed), goats, monkeys, elephants, camels, and more. It wasn't just us stopping for photos with the animals!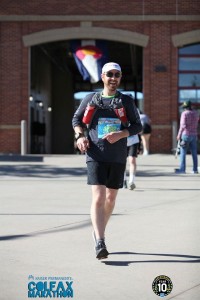 Back out onto the street and on a long stretch. We could hear a band playing up ahead that was really cool. Both of us having played in band, we were really impressed with the talent they were sharing! Rounded a corner, slight downhill, and headed for the fire station. Very cool having all the firefighters lined up cheering us on!
Weather was darn near perfect for a run through several cities. Through parks, in shady flat neighborhoods, right up to the guys and gal from the Colorado Firefighter Calendar.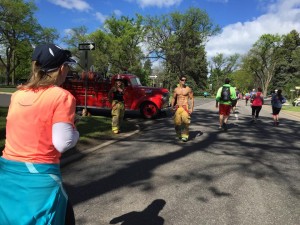 Oh yeah … the spectators and volunteers on the course are incredibly awesome!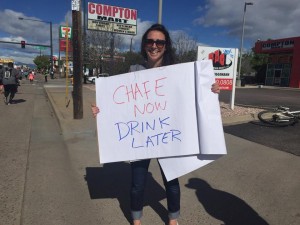 The last mile of the course gets tricky. Not to navigate, but that you can hear the finish line announcer and you start seeing finishers walking around with their medal. At that point, if you're not feeling well, you put your head down and start cranking it out. Coming down that finish line is pretty awesome! The spectators line up and cheer for you like you just won the whole thing!
This year, the finisher medal was unique and quite cool: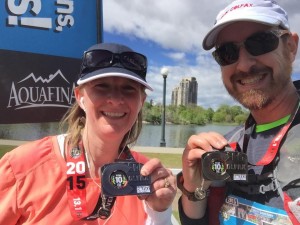 Within the "C" of the medal, from the Colorado flag, the medallion spins around and has the race distance on the back. Pretty neat!
After we chatted with some people in the finish area, we headed out to the big post-race party. Live music, food, beer, and more! We grabbed the vegetarian option from Taziki's and found a spot to rest. Didn't take long to eat as we were hungry! Both our stomachs weren't feeling all that great, bit of dehydration, so we headed to the car. On the way we chatted with several friends about the successes of the weekend.
It was an exhausting but incredibly rewarding week and very excited I got to be part of it!