They really seem to have a race for every type of motivation. Whether it be a half marathon for wine or pub crawl. A race all around chocolate? Bring it on.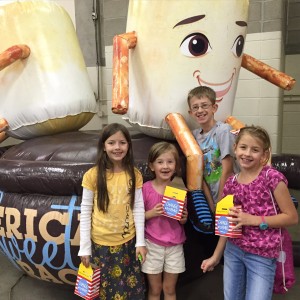 My wife wanted a target to train for so the Hot Chocolate race was a natural. You might think it was the chocolate that made this race appealing to her, but it was actually the sweet jacket you get!
The Expo was pretty easy to get to located at the National Western Stock Show complex. We parked about 100 feet from the door and the entire gang was with us. Picking up our race bibs was simple and over to the goodie bag with the jacket. Before opening the jacket and nullifying the ability to exchange, we went to the booth for trying on sizes. After playing the game of "which one do I look better in," we agreed that we had originally picked out our correct sizes.
There weren't very many vendor booths that I was used to. The kids enjoyed going around and collecting chocolate though! It was like Halloween with spinning wheels to win prizes.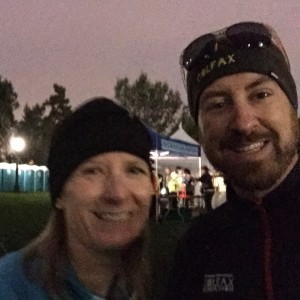 Race morning was pretty easy. Shower, get dressed, pin bib to shorts, and eat a piece of toast. Babysitters arrived at 5am and we were on our way! We decided to get to the race early so we wouldn't have to worry about parking. The nice thing about Denver is that parking meters are free on Sundays. We found one about 3 blocks from Civic Center Park where the race was. To stay warm, we hung out in the car for a bit.
I was questioning whether to take Ibuprofen for the ankle. It was hit or miss on pain, but figured it would go away at some point. Smart thinking. I should become a doctor.
We headed over to the starting line and hung out with some Colfax Marathon Ambassadors while watching the 5k race start. The weather was slightly on the chilly side, but that would change as soon as we started moving through the streets.
Getting to the starting corrals was really easy. It wasn't crazy crowded like other races I've been in, but there was a large number of people. I would guess a total of 11,000 participated in the 5k/15k. The only feedback was that the speakers could have been turned up louder. Everyone was still having a great time and excited to get going!
Passing under the starting arch, I got to hello to Creigh who was acting as emcee. He's also the Colfax Marathon Race Director … pretty awesome guy that spends a great deal of time traveling to races around the world to lend his voice!
From there, we headed down 14th, cut over to 15th, and made our way through Lodo. After passing mile 1 marker, around the corner was the first aid station named Chocolate Chip Aid Station.
Yup, handing out chocolate chips. Sure, I'll take some.
The pain in my ankle started to subside. I won't say it was because of the chocolate chips, but more because it was getting warmed up. Lately, the ankle was only really hurting when I stopped running.
On through the streets of Denver we went and after mile 3, we came to the Strawberry Marshmallow Aid Station.
Yup, handing out strawberry marshmallows. Sure, I'll take some.
It really isn't all that easy to run with a marshmallow in your mouth. Breathing can be a little tricky yet at the same time melted pretty fast!
More streets, ankle noticed the dips in the road, and next up mile 5 … the Tootsie Roll Aid Station.
Yup, handing out tootsie rolls. Sure, I'll take some.
I decided to make a pit stop and stand in line as Tanya went on ahead. There I stood, for 6 minutes, eating Tootsie Rolls while waiting to use a porta potty. This is the life!
It took about 8 minutes to catch up with Tanya. Was good to add some intervals to today's run! Needed to burn off all that chocolate I already had and make room for more ahead.
After mile 7, we came to the Chocolate Marshmallow Aid Station.
Yup, handing out chocolate marshmallows. Sure, I'll take some.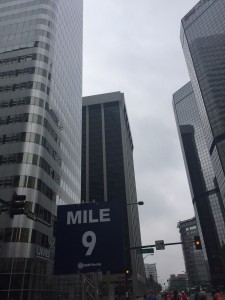 Heading into mile 9 was running through downtown. Always fun to run down the middle of the street with towers around you. Down the street and into the finish line with giant marshmallow balloons above. Lots of happy!
We received our really cool medals … which is why I wanted to run the 15k and not the 5k … then grabbed some water. Up next was to get our bowl of goodies to dip in chocolate. Before the race, I didn't think I would be interested in hot chocolate. However, with it being still in the 50s and needing sugar, the sweet warm cup hit the spot! Now dipping marshmallows, Rice Krispy Treats, and other candy into chocolate … didn't take too long for the stomach to say stop. We didn't stick around too long as wanted a warm shower and to lay down. In fact, later I was sitting on the couch and passed out. I'm not in the shape I was a year ago.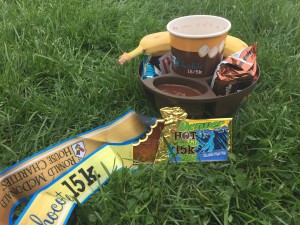 The ankle held up well during the race, but I still notice my stride is not the same. Later in the day I sat on the couch with a large bag of ice on the ankle. It was probably about 30 minutes before I decided to take it off. That definitely helped! I'm sure that I probably should have only ran 1 mile to slowly ease back into it.
Then again, why do anything that is easy?