I never lose. I either win or learn.
Only a few people knew my real goal for Run Rabbit Run 100 in Steamboat: to unplug from the world for a day.
Sure, it would be nice to finish and get my first 100 buckle. Really though, I wanted a break. After I dropped at mile 30 and 8k feet of climbing, I looked at my phone and had 78 emails, 4 text messages, a voicemail, and IMs. A couple even had subject lines of "need a decision by end of day." Too bad for them.
I also knew that I had 3 months of mental therapy to make up. Thanks to the Kenosha Pass Grade 3 Ankle Sprain, I had been sidelined from any activity. People at work noticed the change in my attitude as the to-do list continued piled up. Then I took on a consulting gig because it was around a running event I love. What I realized even more along the way is that the way I get so much done is by having running to balance it out.
More philosophical stuff later.
Onto race day …
Holly lives in Steamboat and was gracious to offer Derek and I her cabin as a place to stay. She had to head to Denver so we didn't get to connect, but plan to in the future. Derek planned on driving up middle of the night to arrive at 6a. That meant more alone time for me which was alright.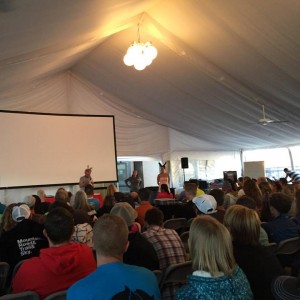 Went to packet pickup and met up with Mitch, Allen, Erik, and Kendra. Pickup was super fast and easy. Got picture taken with bib and rabbit ears. Entertaining and fun atmosphere! As they did the pre-race briefing, they did drawings to give away a bunch of stuff like headlamsp and spikes for shoes. Who knew we actually would need those, but they would have come in real handy with the snow and mud!
Race Co-Director Fred:
Ken Chlouber says "you are better than you think you are and can do more than you think you can." What he doesn't say is "it's going to hurt more than you think it will and suck more than you know."
Fred is 63 and running the race!
Race forecast was high of 70 and low of 30 with no sign of precipitation. Fred says "Now that I told you that, forget it. On the course it will get down to single digits at night with possible snow."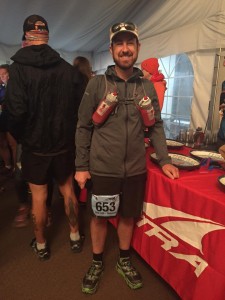 Damn he ended up being right.
After the meeting, we headed over to Kendra's where her family treated us to an excellent pre-race dinner! The Broncos game was also on which was nice to keep up on.
Race morning … chilly and rainy at the start. I handed Derek my phone and GoPro as I didn't have a waterproof way of carrying them. That means almost no photos … sorry.
As soon as we crossed the starting line, the rain stopped. We were climbing up a black diamond ski slope … for 2 miles, then another 2 miles up switchback roads. If you've ever done the Manitou Springs Incline, imagine going straight up it 3 times. That starts to give you a feeling of what the start of the race was like.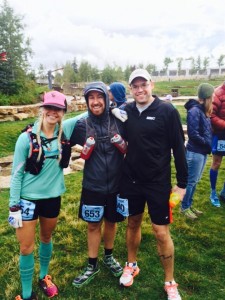 About a mile up, I decided to take off my jacket as I was warming up. Maybe 30 seconds later it started to hail. Well doesn't this race have it all. I had to stop every 5-10 minutes so my heart wouldn't explode. The views were quite spectacular, so used that time to take in the fog rising off the city below.
Once reaching the gondola, enjoyed a nice downhill stretch … for about half a mile. Then more climbing. My ankle was not liking the climbs as couldn't really flex my foot fully.
At the top was Mt Werner aid station (mile 4). 2 hours into this thing and my watch was reading average of 33 minute/mile.
Me: We're good. Will make up time on the downhill section.
After enjoying a nice chat with the volunteers, eating pickles (new favorite!), and filling a bag of chips, it was off down the hill!
The legs enjoyed the downhill! It was pretty muddy and slippery so couldn't fully let go. Then there was snow. Yup, race with everything. Normally on the downhills I like to stay light and move like a ninja. The ankle was having none of that! Told myself to move down the hill faster than walking and we would be good.
It was a nice and easy decent into Long Lake Aid Station (mile 11). Really incredible views! If you ever want to do some nature photography, this is the place to come.
As I entered the aid station I hear "hey Alex!" It was Becki that I know through Colfax and Leadville. Great to be surprised with a friendly face and have a nice chat.
A 12yo helping at the aid station said I should try one of the Nutella wraps. Okay. Took a bite and asked what the crunchy part of it was.
Oh, we wrapped with M&MS inside.

Genius!
Finally the therapy was working. Up until this point my head was spinning with all to-dos not relating to the race. This is the jumble noise in my head on a daily basis. It can get loud and running helps organize these thoughts.
Back out on the course and feeling good mentally/energy-wise. Ankle still not functioning fully and starting to feel some twinges of pain on the inside of it. Time to start thinking about Ibuprofen.
Looking at my temporary tattoo on my arm of the elevation until the next aid station, I was excited to see a big downhill. I had already made up great time on the last section to get per minute average down to 19. Now I have the opp to take it down further.
Unfortunately, the next few miles were so technical that I was hopping from rock to rock. With no trees, also tricky to find course markings. There were times I came to a complete stop to look for them.
Then I came to a little stream crossing. Yes, I had immediate flashback to June when crossing a river I blew out the ankle. Being smart I took this one easy. Except, my first step onto a rock and it flipped sideways putting me into the water. Seriously? Thanks because my ankle needed that.
Heading down the technical terrain, my ankle rolled 2 more times. One of those, I had to stop and catch my wits. The roll of an already injured ankle sent such a charge of pain up my spine that I thought I was seeing stars. Again, kept telling myself that I was fine and in control of the moment. At that moment, I decided to take another step.
By now it was 70 degrees. The race with everything.
Once past the technical rock climbing, I was in familiar grounds of smooth trail. The ankle was still angry with me, but I remember my last conversation with my grandpa before passing away in June. We talked about life being crazy busy. His last words to me were "just let 'r rip."
So I did.
I threw my elbows and shoulders back and ripped all the way down the trail. Passing hikers in both directions thanking them for their words of encouragement. All the way to the trailhead and down the road to the water only aid station at Fish Creek Falls.
To my surprise, Derek was there! This was the first time I had seen him since the starting line. Was great to see him and sprayed me down with sunscreen. He asked about the ankle and I said time for Vitamin I (Ibuprofen). Popped 800mg, filled up an empty bottle with water, and back on down the road.
Pavement. This is something I know. It was nice to run on something that wasn't rolling my ankle. Plus I train mostly on roads so I could just go into a rhythm without the worry of tripping. The ankle felt every step, but it was level. I let r' rip down those roads to the tune of 11 minute/miles. Watch was showing just below 18 minute/mile averages! Who would've known that after 6 hours on the trail that I could suddenly crank out a good pace.
Mile 21 Olympian Hall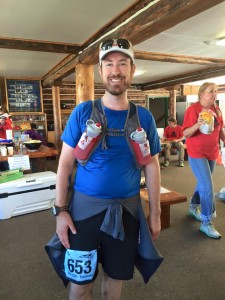 I was feeling really good coming into this aid station. In fact, I got there so fast that I caught Derek by surprise! We checked the clock and I was right where I hoped to be which was an hour ahead of cutoffs. As we walked into the aid station, we were laughing and telling jokes. Things couldn't have been better.
Leaving the aid station …
Volunteer: across the field and I'm sorry to say up that hill.
Me: No worries as I'm sure it won't be the last one.
I trotted across the field and started climbing the hill. As I rounded the corner, there was another hill. Turned the corner onto a dirt road that went up. Then up more. I passed by a hiker with his 2 dogs. One of them looked very similar to mine and kept up with me for awhile. That was nice as I have missed running with my dog.
Eventually came to a sign to turn off the road and up a rocky hill. About a quarter mile of that back to the dirt road where a table with coolers of water sat for people. My bottles were still pretty good so I just kept on.
Well, you don't have to guess what was next. More hills. These suckers were ski jump worthy. I was moving slowly. About that time, the lead guy came zipping down the hill. I don't think he was sweating.
With many stops along the way, I rounded the top of the hill to see yet another hill. Really? Okay, one step at a time. All I can control is the moment I am in. The racers that started 4 hours after me were now catching up to me. Well that can't be good. All of them super nice and providing words of encouragement.
Mile 25 – The Wall
As I round the corner, another hill to climb. Damn. Up until this point, I was doing a pretty job talking myself through each climb. Just focus on this hill, this 1 step, breathe, and move forward. Something about yet another mini-mountain was just debilitating. At that point though, only way out was on my feet.
Finally, it seemed like it was all downhill to the aid station. The temporary tattoo on the arm turned out to be quite useful for this motivation. Rather than memorizing everything, nice to have an easy way to remember.
Even still, it was hard to roll my foot through a full stride. I probably looked like I was doing a pirate run with putting more emphasis on my right foot. Lean forward and catch myself from falling was the plan. Each step sent more pain through the ankle and knee. It only really hurt when I stopped. Then again, the blister forming on my heel was not so pleasant either.
Mile 29
Voice in head: You have no reason to be here. No training, destroying ankle, have family at home.
Me: Chill out. We have plenty of time and don't need to go fast.
Voice: Nope. You're doing bad stuff and I will shut you down in the middle of a trail alone somewhere.
Me: Damn you suck.
Even though it was downhill, I still kind of hobble-ran all the way down to Cow Creek Aid Station.

I saw Derek waiting for me and went right over to him so I could sit down.
Me: My ankle is killing me.
Derek: I know I can see it swelling through your sock!
Me: It's like throbbing pain shooting up the side and front of my leg.
Derek: Well let's sit here and get some food in you.
My arms felt weirdly weak. Like I can't even lift them and they're numb.
It was as though my head was in the clouds and that I would pass out. Things were fading fast. I ate, drank Coke, had an electrolyte pill. Then I watched others come into the aid station. Some were starting to show signs of fatigue.
After many conversations about my ankle, I decided to stop. I had climbed 8,000 feet in elevation and descended the same over 30 miles. Climbing another 2k over the next 4 miles concerned me about doing further damage to the ankle. Then dropping another 2k over 4 miles would have me hopping on one foot.
All of those I hung out with the day before also dropped at some point by morning. The temps dropped down to single digits, people were being carted off by ambulance for hypothermia, and others just fighting through ups and downs.
At the end of the day, it was completely unfair for me to expect my body to complete 100 miles on one of the toughest courses in Colorado. Especially since I had zero training over the past 3 months. Knowing I was coming into this with everything physically against me, all I wanted to do was relax and explore. I spent about 9 hours on the trails by myself and it was the reset I needed. Also, I feel like I figured out nutrition and will be going with Tailwind for the future. Granted, I don't know how soon I will fully run again, but it helped me realize I need running.
At the same time, I went pretty damn far for no training and had a great time.