There are signs all around us when to stop. Most of us ignore them because we are blinded by a particular goal set. I set big goals. Stupid goals to many. Then again, they're probably deemed not normal due to lack of training rut I have been on. I'm barely trained for a half marathon by all accounts, but I'll run no matter what. Well, except through peeing blood, but I won't make that mistake ever again.
Knowing that it would almost take cutting off my feet to stop me, intervention was inevitable.
Derek and I were registered for Silver Rush 50 in Leadville, so decided to get in a long run. Both of our training hadn't been "text book," but mine never is. I proposed the idea of Kenosha Pass for 20+ miles or so. This is the trail that hooked me into ultras.
At 4:30am on a Saturday, I picked up Derek and we headed to the mountains. We filled the car ride with catching up on family, running, work, and the world. Easy going and always some topic we can discuss.
Arriving at the trailhead, we were greeted with the mystical wonder of nature.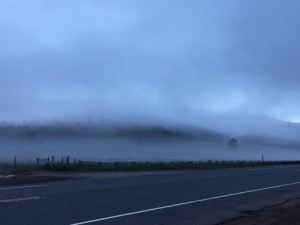 The plan was to walk the ups and jog the flats while running downhill like a ninja. We headed off on the trail with only the sound of birds in the trees.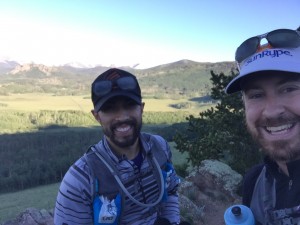 Kenosha Pass starts at 10,000 feet in elevation, so it's a great place to get some altitude training in. The terrain is technical in many areas, so taking a fall isn't hard to do. There are climbs and descents, but you get that the entire time on the trail. No just straight up going one way and straight down the other.
About 2 miles in there's a fun downhill running portion. Not too technical so you can really let it fly. I love this part because I know that I won't be moving anywhere near the speed on the way back out. In other words, enjoy the pace while it lasts.
At the bottom of this descent is a stream crossing. I always enjoy jumping over the water as it feels cool to do. With our late snow and large amount of rain the past couple of weeks, the water was running high. Brain didn't quite translate that to mean farther distance to jump.
Yup, here it comes.
I pulled out my iPhone to get a photo of Derek doing the jump once I got to the other side. Lackadaisically, I took a couple steps and launched off from the embankment. I can still see it in slow motion. As I stepped off, I had the thought that I wasn't going to make it so started to turn my body mid-air. That about killed any forward momentum I had. About halfway over where I started to do the 180, my dropped down. Two feet down into the water plunged my left foot. Immediately the foot touched a rock and quickly went into an inward turn. Followed by 170 pounds crashing straight down on it. Damn.
In my head, I told my body to reach for the other side as the rest of my body went into the water. Right up to my shoulders. I got my hands over the dirt, but my lower body didn't follow.
Oh yeah, my iPhone is still in my hand.
As I looked over at my iPhone, priorities you know, through the mud layer I see "No SIM card detected." Oh crap.
Then I realized something else. A screaming level of pain I had not experienced before.
I awkwardly pulled myself up on the bank and pulled my left leg in close. My hand was wrapped around my ankle. The noise I was making sounded similar to my wife's while giving birth to our kids. It was as though someone used my ACL as the pull cord of a lawnmower. Everything was in shock. The pain sent red alert pokes up my back and into the base of my skull.
By this time, Derek had made his way to the side I continue sitting steadily by.
Wow I can't believe that just happened.
He picked up my iPhone and started to clean it off. Looks like it was still operating and no real damage done. Good thing I did purchase a case.
I still didn't want to move. Any motion just hurt more. There was a lot of wow I'm a moron and holy crap that did not just happen.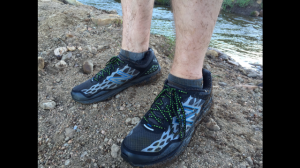 After what seemed like forever, I gingerly got to my feet. The swelling had already started.
3 miles into a 20 mile run and this happens. I really wanted to test out a nutrition plan. Damn.
Now I have fallen before on the trails. My first ultra, coincidentally Silver Rush 50, I went face down at mile 20. No biggie. Slowly get up, check if you can see bones, pour some water on it, and keep moving forward. Today I fell in the water … great I already covered the pouring-water-on-it step! Let's keep going.
Yup, I borrowed one of Derek's trek poles to use as a stabilizer and said let's run it off as I knew the next mile was downhill.
About 20 seconds into the running it off I was made aware that I would not be. Every step was incredibly painful. Not just in my foot, but entire body was feeling the impact. Stabbing pain in my back, neck, hips, knees … everywhere.
Yet, I led us on for another 1.5 mile.
D: Dude, I don't want you to do anymore damage.
Me: I really want to get up to the Pass. And you got a babysitter for this.
D: Yeah, but I can go home and take a nap.
Me: That's fair. And sounds nice. Plus I want to have a chance for Silver Rush and not mess up the 100 in September.
That's when it hits me we have over 4 miles back to the car. Only one way to get there and that's on foot. Almost literally, on one foot.
I now had both trek poles. Our pace went from 10 minute miles to 32 minute miles. Not sure how many times I apologized to Derek on the way out, but I'm sure it wasn't enough to make me satisfied. He was gracious as always saying it was good mental training.
Going uphills hurt quite a bit. Then going downhills hurt even more. Even the flat elevation with a v-shaped trail was excruciating.
The looks I was getting from bikers and hikers on the trail confirmed I wasn't doing a good job of hiding my pain. Faces communicated a why the hell are you doing that? type of thing.
Once back at the car, it was time to pull off the sneaker. Boom. Like watching a balloon expand. I gingerly slipped on my flip-flops, got into a car like I just had a hip replacement, and pointed the car for Subway. Needed food.
I could still put weight on my foot, so I assumed that was a positive. Granted, I didn't have a very positive look to my walking form, but I was moving without help which seemed good. We each downed food and headed for home.
Life doesn't stop. I pulled myself up the stairs and into the shower. Getting dressed required some sitting down, but slipped back on the flip flops and went to Costco. The grocery carts there make a nice crutch. Pretty sure a guy with an oxygen tank passed by me. Once done there, went to pick up my son who was carpooling home from camp. Then it was off to King Soopers for grocery shopping. My son was concerned about me.
Once back home, decided it was time to put the foot up with some ice. It was swelling more. My daughter filled bucket of cold water and in went foot. Then she started adding ice. Her mischievous smile made me think she was enjoying "helping" me a little too much.
Still in my head, while staring around my foot to see the tv, I thought that this could be fixed before running Silver Rush 50 in 2 weeks …
The next morning, I went to get out of bed and crumbled to the floor. It was as though I had a stone replacing my left foot. That meant there was weight there, but no feeling or much use. I crawled to the bathroom. Doing that was even more painful than a silly comedy show.
Once I moved around a bit, things seemed to be getting better. They sure didn't look better …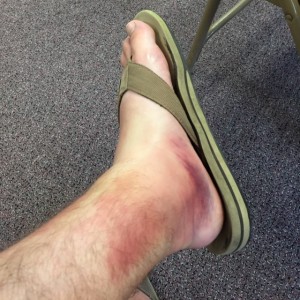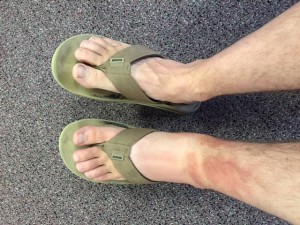 Left the house looking like that. Went to church and during the service I got up from my front row seat to receive Communion. As I made it to the Pastor, she asked if I wanted her to bring it to me. That, and several other reactions, I decided more ice water would solve this.
Monday at the office … looks of concern followed my some good jokes. Unfortunately, I left my sense of humor in that stream by Kenosha Pass.
So we can say whatever we want and now you can't catch us!
Me: I have one good foot and I'm going to use it on you for something other than running.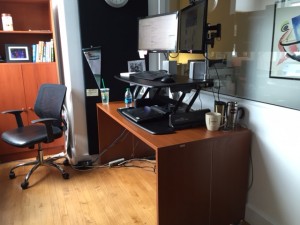 I avoided stairs as much as possible and took my sweet time going from meeting to meeting. Awesome co-workers picked up food and brought it back to me. Oh yeah, a couple days ago I got my stand-up desk … great timing.
Wednesday night was time for our annual family 18+ hour drive to Ohio. Well, if there's one thing will keep you awake for an all night drive, it's a throbbing ankle and foot. Swelling and pain continued. Really? Shouldn't this be fixed by now?
Over the next several days, I hobbled up and down stairs, swung my foot around while walking through grocery stores, and massaged the ankle area furiously. I was not happy.
I received a call from my ultra buddy Parrott and part of the conversation went like this:
Me: I'm getting a new pain level tolerance and the jokes are getting old.
P: Well of course because you are pissed!
Me: Yes, yes I am!
Rarely do I get that upset for that long of a period of time, but wow acceptance of this situation was not easy. I am well aware that much worse things could have happened on the trail … like falling and hitting my head on a rock, having a bone stick out of my leg, or being bit by a snake.
10 days after spraining my ankle, I officially transferred my Silver Rush 50 registration to next year. Still didn't feel right and deep down hoped it was a big mistake.
The next day, my ankle continued hurting and I couldn't bounce on it. It could have been the 3 hour zip line tour with the family that didn't help. I made the right choice and now can focus on supporting Derek along with a dozen others I know that will be running on Sunday.
2015 is my year of doing … when I came up with that, I didn't define that as doing things for me. Time to give back and help others in the ultrarunning community that has done so much for me.