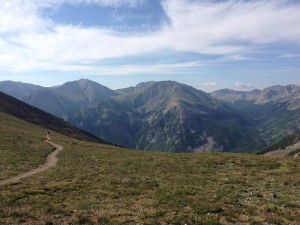 It will come as no surprise to those that know my personality, that I have registered yet again for the Leadville 100 Mile Trail Run. This is my 3rd attempt at completing the event and all training efforts will be geared towards this goal. Giving up is not something I'm will to settle with myself. I have run the entire course out so am aware of the terrain and challenge ahead. What I am still fine tuning is the nutrition piece. I will make one clear guarantee: I will not be dehydrated at any race in 2014. I have figured that part out. In fact, I am pretty sure I have the fuel altogether figured out, but need some 6 hour runs to test thoroughly.
Fortunately, I am not alone in my quest this year. A friend that I ran Silver Rush 50 with back in 2012 has also registered. We have plans to be running at high altitude at least once a month and train on the actual course. Both of us will be doing the Leadville Trifecta: Marathon, Silver Rush 50, & 100 Mile Trail Run. It is going to be a fun journey and am glad to have someone to share the trails with!
Another positive for 2014 is that I have my crew and pacers back. This experienced group has listened and seen me through it all. Even last year's trip to the ER from Twin Lakes and first year stumbling through the woods into Winfield. They know my personality and can tell when things are going south. It is a group that won't sugar coat much and that's what I need out there.
In 2013, Lifetime Fitness, the event's owner, increased the number of runners that could register. Post-race this lead to many runners criticizing the impact that many runners had on the trails, crowds slowing down crew, and running out of fuel at aid stations towards the second half of the race. As I have already posted to the Leadville Race Staff, I expect the event staff to have a well marked course and watch out for my safety. I had no trouble following the course and the race medical staff did the right thing sending me to the ER. If I was to depend on their aid stations, then I'm creating an uncontrollable risk that I don't want to have to worry about.
This year Lifetime Fitness reduced the number of entries to "to reduce impact on the course and aid stations" and the 2014 Leadville 100 Mile Run sold out in 48 hours. Last year, I recall the race selling out in 45 days. The reduction of the number of spots could not have been that dramatic, as they state a few hundred, so I imagine the PR received from last year helped drive interest. Sometimes bad PR is still PR.
I feel the excitement and fire again about taking on a monumental challenge. I'm looking forward to being out there with old friends, family watching, and new friends that I'll make along the journey.