1. The Rain Dance Worked
As you may have seen on the national news, for most of June Colorado was on fire. This past weekend, my wife and 4 kids joined some friends at a park to celebrate a birthday. About 25 minutes after we arrived we noticed some dark clouds rolling in. It's normal during the summer in Colorado that around 4p we get a little shower. Well, this was no shower as it was someone backing up with a pool to dump on us. Wind and huge drops of rain poured down so fast that there was 3 inches of water in the roads within 6 minutes. Everyone grabbed something and ran for cars. By the time we arrived at the van, everyone was soaked like they were just pulled from the river. That is fairly accurate as there was now a river flowing around the van down the street. It was one of those unexpected adventures in life that none of us will forget!
2. Spent the week with 110 kids
This week our church had their annual Vacation Bible School and Day Camp. As I had a fairly flexible schedule, I volunteered to be the photographer and put together a slideshow. It amazes me how much energy kids have and their enthusiasm for life! One would think that as the week went on their energy would decrease from exhaustion … it seemed quite the opposite. They became louder more excited and even more joyful. Great reminder to not take things so seriously.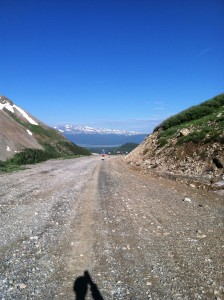 3. Heading back to Leadville
As Beth over at Life is a Run pointed out to me, this Sunday will be my anniversary of becoming an ultramarathon runner. Two weeks ago I ran the Leadville Marathon and this time will once again participate in the Silver Rush 50 Mile Trail Run. My wife and I will arrive in Leadville Friday afternoon and return Sunday night. It's a nice little break from the every moment day responsibility of being a parent. Well, for me at least. My wife has to take care of me and make sure I survive 50 miles at an elevation of 12,000 feet.
4. Comedian on America's Got Talent
A show that we used to love to watch was Last Comic Standing. If you haven't seen this, it's American Idol for comedians. This past week on America's Got Talent a comedian by the name of Tom Cotter performed. He made me laugh like I had not laughed before. 90% of what he said would also make (and be appropriate) for my 9 year old to laugh. We need more laughter in this world and I hope he makes it to the end. People get too caught up in creating seriousness and sometimes you just need to let go. Try it.
See you next week when I hope to report back that I survived my ultramarathon anniversary!